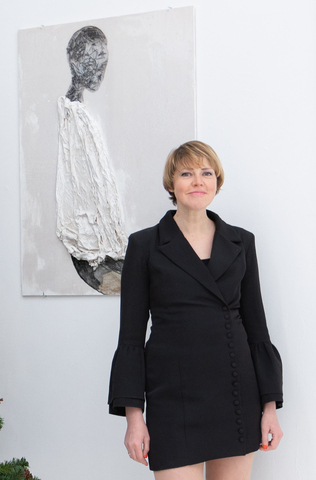 Nadezhda Kosinskaya lives and works in St. Petersburg. Graduate of St. Petersburg State Academy of Arts named after A.L. Stieglitz, department of monumental and decorative painting.
Works in the techniques of painting, graphics and art object. Uses metal (nails), textiles, embroidery.
Nadezhda's artworks are in private and museum collections: the State Russian Museum, the Streetart Museum, the Museum. Erzya, collection of Igor Sukhanov, Vera and Alexey Priima, Leonid Franz, Anton Belov, Kirill Avelev, Andrey Egorov, Olga Egorova, Alexandra and Alexander Bolshakovs, Raivis Zabis (Latvia), Katerina Turner (Great Britain), etc.
PERSONAL EXHIBITIONS:
2022 - Nadia's Children, Diaghilev Museum of Modern Art. St. Petersburg
2022 - "Fibonacci Numbers" art space by Ksenia Tarnavskaya. St. Petersburg
2021 - "White Room", Gallery "Door", St. Petersburg
2020 - "I'm not going anywhere today", gallery 14/45, St. Petersburg
2019 - DREAMS IN WEIGHTLESSNESS KZ gallery (3D / VR gallery)
2015 - TRANSPARENCY, Art Center Pushkinskaya 10, Art-League gallery, Moscow
SELECTED GROUP EXHIBITIONS:
2022 - About Myself, gallery a-s-t-r-a, Winzavod Centre, Moscow
2022 - "Girls!Girls!Girls! Exhibition of Contemporary Art by Russian female artists, Vladey, Winzavod, Moscow
2022 - Collective self-fulfilling prophecy about our beautiful tomorrow, a-s-t-r-a gallery, Vinzavod, Moscow
2022 - Art Moscow Program at the 48th Russian Antiques Salon, a-s-t-r-a gallery. Gostiny Dvor, Moscow.
2022 - Exhibition "Vokzalnaya", Krupskaya Recreation Center, St. Petersburg.
2021 - YABA WORLD Contemporary Art Fair. The Home Gallery stand. Sevkabel, Saint Petersburg.
2021 - participation in the project "EVERY ARTIST IS SOMEONE'S CHILD", graphics of the generation of the 2010s. Catalog.
2021 - "Generation of Thirty", Russian Museum (Marble Palace), St. Petersburg
2021 - Two thirds. Coping with reality, Escapement Art gallery. Zurich
2021 - "New Ruins", exhibition hall MANEZH, St. Petersburg
2021 - Home, sweet, home, Zverev Center for Contemporary Art, Moscow
2021 - "Women's Exhibition", FFTN Gallery, St. Petersburg
2021 - "Collector's Choice", All-Russian Museum of Decorative and Applied Arts, Moscow
2021 - "Architecture of the Undefined", "DK Gromov", St. Petersburg
2020 - "Behind the Clouds of Future", "DK Gromov", St. Petersburg
2020 - "Flowers for Doctors", MAMM, Moscow
2019 - MEMENTO VIVERE, Navicula artis gallery, St. Petersburg
2019 - Exhibition of the nominees for the Sergey Kuryokhin Prize. Exhibition Center. S. Kuryokhina, St. Petersburg
2016 - Exhibition as part of the 8th St. Petersburg Cultural Forum, "House of Culture Gromov", St. Petersburg
2019 - Fair DA! MOSCOW, Moscow
2018 - "Dualism" in the framework of the Baltic Biennale of Book Art, St. Petersburg
2018 - Fair MASTERS, St. Petersburg
2018 - International Art Fair Armenia Art Fair, Yerevan
2018 - "Unincluded", AGILE GALLERY, St. Petersburg
2018 - "Space", art-residence KvartaRiata, St. Petersburg
2018 - SHARPPS7, OVCHARENKO gallery
2017-2018 - Participation in 3, 4, 5.6 contemporary art fairs organized by the NORTH 7 group
2017-2019 - SAM FAIR Contemporary Art Fair. Saint Petersburg
2016 - "So far, so close", Art Center "Taiga", exhibition-dialogue of artists from Finland and Russia
2015 - "From avant-garde to avant-garde", Museum. Erzya, Saransk
"My first works using metal appeared in 2019. At some point, I began to work closely in the classical techniques of painting and graphics .. I wanted to expand the boundaries, opportunities. I tried to use nails, metal, to create images .. I liked the structure of this material, graphic and painterly at the same time. Gradually, I began to think with this material, it corresponded to my inner state, allowed me to express myself most clearly. I automatically "tried on" this technique to what I see, I feel that I want to portray. Some of the works are done expressively, in a fit. Others are typed methodically, step by step, day after day. The process of work turns into meditation, immersion. The metal surface resembles armor, a kind of protection from the outside world. Often, in addition to metal, I include other materials in my work - fabrics, plaster. I create a relief painting surface. A lively, emotional message is important ". Nadezhda Kosinskaya
SELECTED PUBLICATION: