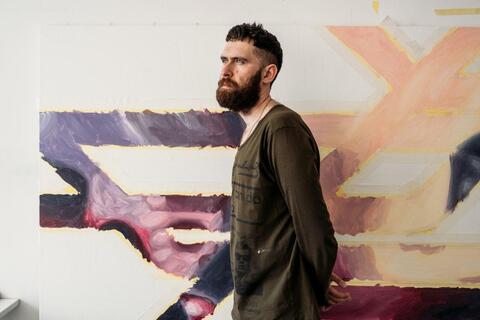 Khodak Nikita is a Russian "street wave" artist.
Was born in 1992 in Moscow. He began his artistic career with graffiti painting in 2006. Member of the famous street art group Zuk Club since 2016. Participant of various mural-art festivals in Russia and the CIS countries.
Since 2017, Nikita has focused on finding the perfect combination of post-digital visuals and fictional imagery to create synthetic artifacts.
The artist integrates machine learning, printing, AR animation into the classic painting environment to achieve a new visual form and aesthetic experience.
An important role in the conceptual meaning of the author's artistic statements is played by constant research into the problems of total digitization of human life.
By mixing the conceptual ironic philosophy of postmodernism with modern ideas of post-truth, the artist tries to ask topical questions about issues concerning the dark side of technological progress.
EDUCATION:
2020

—

School "Free Workshops" of the Moscow Museum of Modern Art
2014

— Russian University of Economics named after G.V. Plekhanov

2009

—

FCE of Cambridge, level B2
FESTIVALS MURAL-ART:
2020

—

"Place". Nizhny Novgorod
2020

—

Carte Blanche. Yekaterinburg
2019

—

"Bright People". Moscow
2019

—

"Pasila Street-Art District". Helsinki, Finland
2019

— "Urban Art Fest". Nur-Sultan, Kazakhstan

2018 —

"Mural Fest". Almaty, Kazakhstan
2018

—

"Place". Moscow
2018

—

"VK fest". Saint Petersburg
2018

—

"History of Champions". Samara
2018-2017

—

"Merge". Nevinnomyssk

2017 —

Chilim. Astrakhan
PERSONAL AND GROUP EXHIBITIONS:
2021

—

Group exhibition of the section of monumental artists. Moscow branch of the Union of Artists of Russia, Moscow
2021

—

Participant and curator of the group exhibition "House # 6". House of Artist MIIT, Moscow
2020

—

Group exhibition "Place". Gallery 9B, Nizhny Novgorod
2020

—

Group exhibition "Street Morphology". Tyumen
2020

—

Group exhibition "Art Workshops XXI". Moscow, St. Petersburg, Vladimir, Rostov-on-Don, Kaliningrad
2020

—

Group online exhibition "StayHome".

zhavner.com

2019

— Personal exhibition "Weakly Linked Data". Urban Art Gallery, Helsinki, Finland

2019

—

Group exhibition "Overload". Moscow
2019

—

Group exhibition "Art Workshops XXI". Moscow, St. Petersburg, Togliatti, Simferopol, Kaliningrad

2019 —

Group exhibition "Urban Art Fair". Flacon Design Factory, Moscow
2018

—

Group exhibition "Moscow Marginal". Moscow