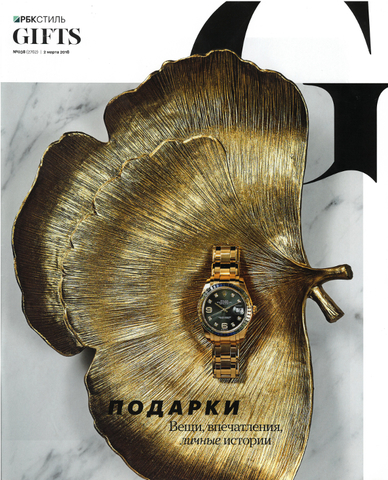 How to give art as a present, 24.06.2018
Alina Kriukova, a founder of the ASTRA service, an online marketplace for artworks, on the transforming power of art and how to easily buy an art object as a gift for yourself or your loved ones.
RBKSTYLE No.038 (2762) dated 2 March, 2018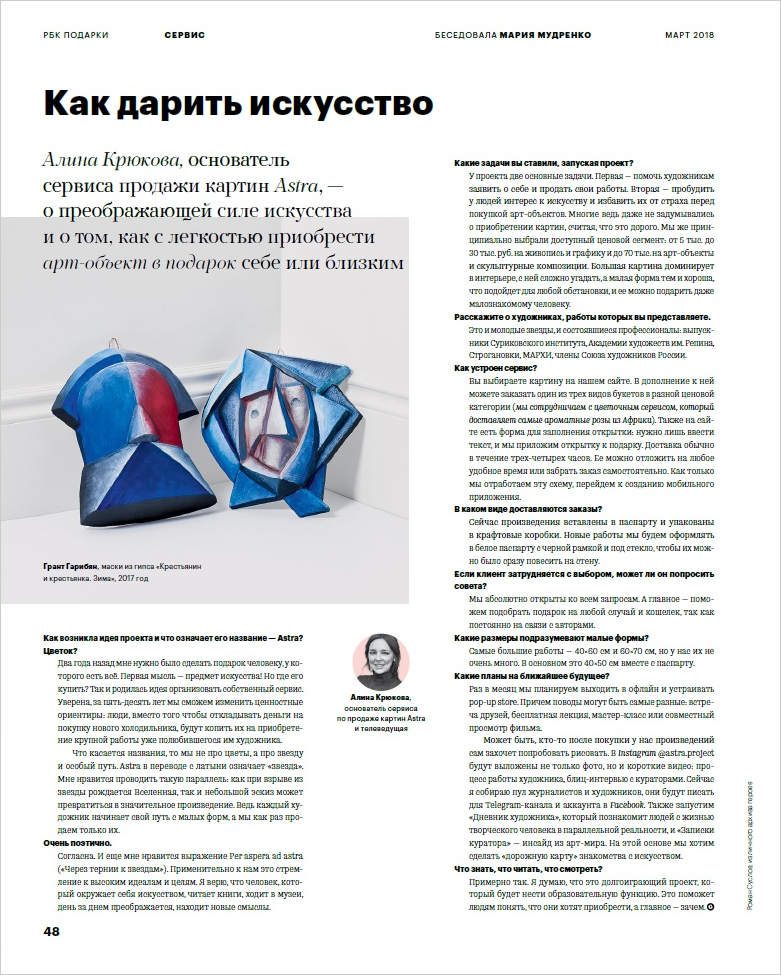 How did the idea of the project come to life and what does the name — ASTRA — mean? A flower?
Two years ago, I had to think of a gift to a man who literally had everything. The first thought was to give an art object! But where to buy it? Thus, the idea to organize my own service was born. I am sure that in five to ten years we will be able to change the values: instead of saving money for a new fridge, people will save to purchase a large work by their favourite artists.
As to the name, we are not talking about flowers, but about the stars and a special path in life. In Latin "astra" means "a star". I like to draw this parallel: like the universe is born out of a star burst, a small sketch can turn into a significant work. After all, every artist begins the journey with smaller forms, and we sell exactly those.
Very poetic.
Agreed. And I like the expression "Per aspera ad astra" ("Through the thorns to the stars"). For us, it is the pursuit of lofty ideals and goals. I believe that a person who is surrounded with art, reads a lot, and passionately explores museums, is being transformed day by day and constantly uncovers new meanings.
What objectives did you set when launching the project?
The project has two main objectives. The first is to help artists to express themselves and sell their works. The second is to awaken people's interest in art and relieve them of the fear of purchasing art objects. Many people never even think about the acquisition of paintings believing that it is expensive. We, on principle, opted in favour of the affordable price ranges: from 5 thousand to 30 thousand rubles for paintings and graphic artworks, and up to 70 thousand rubles for art objects and sculptural compositions. A big picture will dominate an interior and the effect is difficult to predict correctly, but a small form is perfect – it will be suitable for any interior, and it can be given as a gift to a person you do not know well enough.
Tell us about the artists whose works you present.
These are young stars and established professionals: graduates of the Surikov Institute, Academy of Arts, the Repin Art School, the Stroganov Academy, the Moscow Architectural Institute – MARKHI, members of the Russian Union of Artists.
How does the service work?
You choose an artwork on our website. In addition, you can order one of the three bouquets in different price categories (we work with a flower service that delivers the most fragrant roses from Africa). Also there is a form to fill in a postcard on the website: all you have to do is just enter the text, and we will attach the card to the gift. Delivery is usually made within three to four hours. It can be postponed at any convenient time or you can pick up the order yourself. As soon as we refine this scheme, we are planning to proceed to the development of a mobile app.
In what form the orders are delivered?
Currently the works are matted and packed in craft boxes. We are going to mount out new works in a white passe-partout with a black frame and glass so that they could be put on a wall at once.
If the client has difficulty in choosing an artwork, can he/she ask for advice?
We are absolutely open to all requests. And most importantly – we will help you choose a gift for any occasion and budget, as we are constantly in touch with the artists.
What sizes do you mean when you say "small forms"?
The biggest works are 40×60 cm and 60×70 cm, but we don't have a lot of these. Basically the artworks are 40×50 cm measured together with a passe-partout.
What are your plans for the near future?
Once a month we plan to go offline and organize a pop-up store. And the occasions can be very different: meeting friends, free lectures, master classes or watching a movie together. Maybe someone after buying our works would want to try out drawing himself. On Instagram @astra.project we will posted photos a short videos: the work process of an artist, blitz interviews with the curators. Currently, I am collecting a pool of journalists and artists who will write for our Telegram channel and Facebook account. We are also planning to launch "The Artist's Diary" that will introduce people to the life of a creative person in a parallel reality, and "The Curator's Notes", an inside view from the world of art. On this basis, we would want to make a "road map" for the art exploring.
What to know, what to read, what to watch?
Something like this. I believe this is going to be a long-term project that will have an educational function. It will help people understand what they want to buy, and most importantly — why.