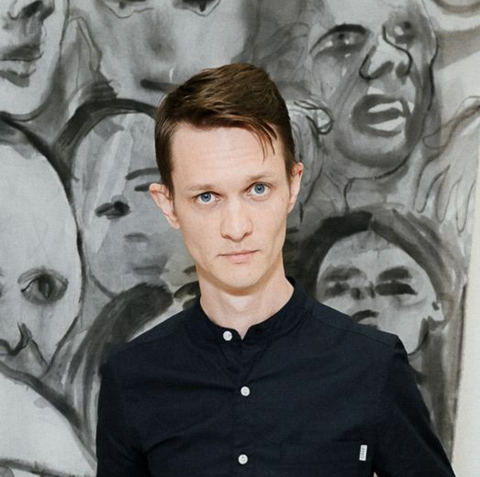 Born in 1987 in the city of Kopeysk, Chelyabinsk region.
Graduated from I.I. Repin St. Petersburg State Academic Institute in 2014 (graphic arts department, workshop of Andrei Alexeevich Pakhomov).
From 2014 to 2017 he studied at the creative studios of the Russian Academy of Arts in St. Petersburg. His works are in the collections of the Fabergé Museum, BREUS Foudation, the private collection of the head of the Guerlain House and in other collections in Russia and abroad.
The work presented in the "Deformation" series captures the process of profound changes during the experience of something that comes from the outside, the metamorphosis that occurs inside a person in the process of reflection, the scarring of events and the experience of them and the very thought of them, which distort our cognitive shell.
"Having received an art academic education, I continue to develop in various modern media, being in search of new forms and images, I am constantly experimenting with artistic languages. But the lion's share of my fine practice is still black and white graphics.
In my work, I often come across academic drawing with modern trends, at the moment on the verge of between them is the most interesting space for research for me. It is there that you can find out the limits of normality and subjectivity, reality and mysticism, releasing the images of the subconscious in a more accessible visual manner.
Creativity must always be sincere to find its viewer. Creativity is a constant search for our sides. This is a pleasure from the find. This is a continuous resentment from what has already been done, as a sign that it is necessary to move on.

While working on illustrations for Bram Stoker's Dracula, I needed to find a solution for the performance of this piece. Having tried several techniques, the choice fell on the monotype. The miraculous magic of printing, its randomness bribed me, forced me to look for new images and meanings. In parallel with the work on illustrations for the dark novel, the Warp series was born.

Deformation (from Lat. Deformatio - "distortion") - a change in the relative position of body particles associated with their movement relative to each other. This series presents the deep deformations occurring inside a person. Perceptions of events, experiences and thoughts, as well as external factors pass through us, distorting the cognitive shell. Deformation is the fixation of these sensations." (Pavel Bushuev)
SELECTED EXHIBITIONS AND AWARDS
2022 - St. Petersburg Art Fair "1703", a-s-t-r-a gallery, Manezh Central Exhibition Hall, St. Petersburg
2022 — Program Art Moscow within the framework of the 48th Russian Antique Salon, a-s-t-r-a gallery. Gostiny Dvor, Moscow
2021 — Program Art Moscow within the framework of the 46th Russian Antique Salon, a-s-t-r-a gallery. Gostiny Dvor, Moscow
2021 — "Russian Shield", St. Petersburg, Russia
2020 — Group exhibition "Kholotel", Moscow, Russia
2020 — Cosmoscow Art Fair, Moscow, Russia
2019 — ART Event Suspense. Brackhausen Mansion, St. Petersburg
2019 — ART Event Suspense 2.0. Sevcable Port, St. Petersburg
2018 — Intervention. Hermitage, General Staff Building, St. Petersburg
2018 — International Fifth Biennale of Graphics. Romania
2012 — International Art Exhibition. Beijing, China
2011 — 1st place in the competition for the design of the Olympic bill
2010 — International Art Exhibition. Seoul, Korea