х Scope Miami
a-s-t-r-a goes to Scope Miami
Dec 3-8, 2019
Booth D07
Commemorating man's first steps made into the Great Unknown, Taming the Space project features the works of three contemporary Russian artists who come up with a fresh look on art and the Universe. Inspired by the legacy of a Soviet Space Odyssey and the ideas of Russian Cosmism, they explore artistic boundaries and change our optics of perception, each in their own way.
Taming the Space
In memoriam of Alexey Leonov (May 30, 1934 – October 11, 2019), the first human to enter the outer space.
"Human is a being in transition between birth and self-creation", Nikolay Fedorov, Russian Philosopher
Every human is a microcosm that tries to comprehend and mirror a macrocosm that is the Universe, at the same time rendering an explanation for it in course of an infinite reflection resembling a Moebius loop. In both its internal and external manifestation, Space represents a void that invariably requires an ever-busy filling and exploration.
Mankind's awe towards the Universe, a reflection of its beautiful gigantism in human ambitious designs and futuristic dreams, the ambivalence of the unknown, the pursuance for interaction and fear of silence, all this turns the Space Odyssey into humanity's dream of its own immortality.
Today, the ideas of Russian Cosmism conceived by Nikolay Fedorov, Vladimir Solovyev, Konstantin Tsiolkovsky, Vladimir Vernadsky, and Alexander Chizhevsky may sound optimistic against the current background of environmental disasters and generally apocalyptic apathy; they promise salvation from destruction to both nature and mankind by creating a new space through a combination of scientific, technical and philosophical knowledge, through the study of yet undiscovered human capabilities.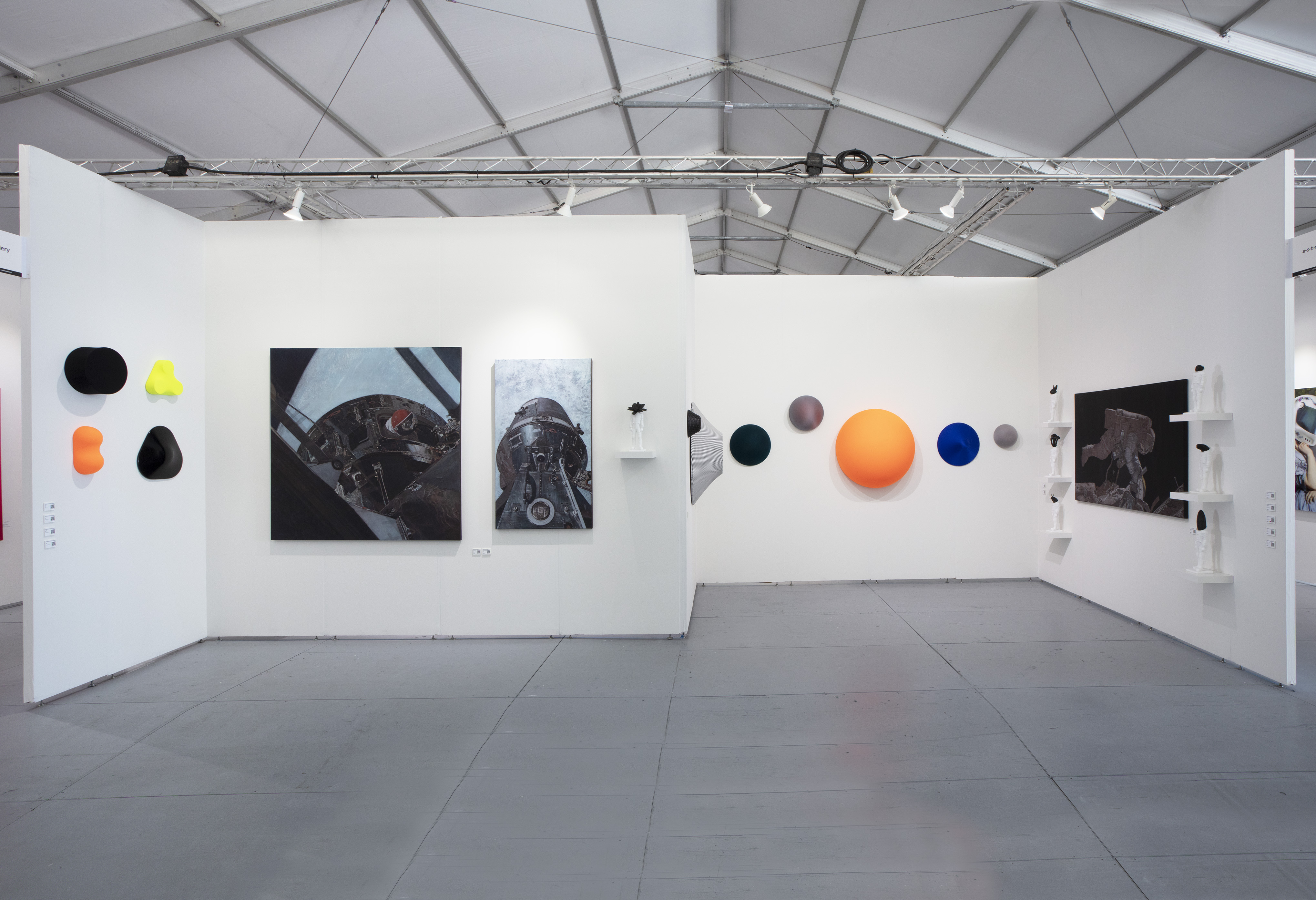 A fresh approach to the ideas that were envisioned at the beginning of the 20th century gives us a chance to believe in the unity of man and Space. It allows us to dream of a possibility that those inanimate stellar worlds that sadly wink at us from infinite darkness can be illuminated by human intelligence; that they can be warmed up with humanly love because human life and consciousness is a force that can resist entropy, chaos, decay, and death. Man can tame Space by gradually entering, conquering it with life drop by drop; with the life of first Space explorers – flowers, animals, birds that can stir up its deadly vacuum with their heartbeat.
When the First Crew conquers back enough living space in the eternal void by sacrificing and thus perpetuating itself, a man enters the outer space to treasure this newly discovered knowledge forever and spread it to the galaxy's edges. From this moment on, the void (though still yawning and overwhelming) serves as a mere material for creation that pulsates with reason and transfiguration.
It seems probable, that the dream of the Russian philosopher Nikolay Fedorov of a future when the humankind will overcome the laws of gravity and will be conquering Universe using the resources of all three generations (past, present, and future) by turning it into a superior artwork, will come true before the eyes of our children.
Denis Prasolov, Dima Hunzelweg, and Nastya Miro are the tree artists who reinterpret the philosophical heritage of Russian Cosmism welcoming the viewers to join this exciting journey with no end in sight.
Dima Hunzelweg
Dima Hunzelweg was born in 1968 into a family of an artist, thus being introduced to the process of making art in early childhood, on an unconscious level. After acquiring formal artistic education in the 1980s, he intentionally breaks free from academic schooling and figurative approach.
Dima Hunzelweg was born in 1968 into a family of an artist, thus being introduced to the process of making art in early childhood, on an unconscious level. After acquiring formal artistic education in the 1980s, he intentionally breaks free from academic schooling and figurative approach.
Today, he considers himself a self-taught artist whose artistic method was fully formed in the early 2010s, after long-term periods of living, working, self-educating and exhibiting across the globe (including 16 years in New York and 3,5 years in Italy). Expanding the boundaries of art and media both literally and metaphorically, he creates unique wall objects blurring the distinction between painting and sculpture, between 2D and 3D dimensions.
In the art of Dima Hunzelweg, the material quality of his works plays a pivotal role. Processing certain materials, which mostly come to his attention by pure accident – be it stainless still or neoprene, it serves as an infinite source of inspiration for the artist. Exploring the limits of perfecting each piece by chiseling away the superfluous material. Making a single artwork might take several weeks and months of meticulous and time-consuming preparation.
As for the method, Dima Hunzelweg relies on geometry as a source of the clearest outlook. In this regard, his work can be viewed as a new step in a deep-rooted tradition of minimalist art and geometric abstraction. Still, paying such close attention to the physicality of each work does not turn them into simple decorative objects. Using geometry laws to achieve an ideal result, the artist tends to work with fairly simple symmetrical forms that are completely assertive in their visual impact. On the outside, cold math is often concealed behind the eye-catching and often skin-friendly surface, resulting in a mixture of inner perfectionism and outer sensual beauty.
In a constant quest for exploration, Dima Hunzelweg is often driven by his interest in scientific progress and recent research. Considering art as a non-stop and ever-evolving process, he thinks that accumulating data and knowledge leads to a more elaborate philosophy. Such an approach, when combined with the pursuance of simplicity and perfection leads to the unquestionable approachability of his art from the viewer's point of view. Unique wall objects by Dima Hunzelweg are equally appealing in terms of form and accessible in terms of ideas. What's more, they look equally relevant among museum-quality pieces by representatives of a number of artistic movements, be it concrete art, op art, or Russian Suprematism.
Artist currently lives and works in Moscow and Hamburg.
SELECTED GROUP SHOWS:
2020 - ENTER Art Fair. Copenhagen, Denmark

2019 - "Möbius Loop" by a-s-t-r-a gallery, Spring/Break Art Show, New York

2019 - Duo show by a-s-t-r-a, CUBE Moscow

2016 - 70ème Salon des Réalités Nouvelles, Paris, France

2015 - La Biennale internationale d'art non objectif de Pont-de-Claix, Grenoble, France

2015 - Museo Roberto Bilotti Ruggi d'Aragona, Calabria, Italy

2011 - Art Festival No Translation 2, Moscow
SOLO EXHIBITIONS:
2013 - House at the Embankment, curated by Simon Mraz, Moscow

2012 - Bluemetrix, site-specific installation, curated by Christina Steinbrecher-Phandt, CHA, Moscow

2012 - Public art projects: Russian-Dutch public art project "Building 35 with artist Martin Scholte, Art-Ovrag New Culture Festival, Vyksa
SELECTED PUBLICATIONS:
Miro Nastya
Born in 1989
Taming the Space project for Scope Art Fair Miami, 2019.
Presented as part of the Taming the Space project, works...
Born in 1989
Taming the Space project for Scope Art Fair Miami, 2019.
Presented as part of the Taming the Space project, works by Nastya Miro might seem to be dealing with the imagery of the space colonization history and the philosophical legacy of Russian Cosmism in quite an explicit way that turns out to be more sophisticated and deeply rooted in her artistic practice. Depicted on the much darker contrasting background of the outer cosmic space, the off-white figures of astronauts appear as maps of some planetary surface yet to be discovered with meticulous and nuanced detailing.
As for realistic tradition in painting, the artists herself sees accurate images as books that can be either quickly flipped through to get a fleeting impression, or carefully read paying attention to each line and get a drastically different experience. The latter approach can also be seen in the way Miro's compositions are cropped. When the fragments of a spaceship come into view, they seem to blend in with the images of astronauts, forming an integrated painterly layer expanding into new territories of the canvas. Hushed and translucent coloring of her works helps the viewer to set this new optics of perception that is equally applicable to art and everyday life.
This reinvention of traditional optics is strengthened by Nastya Miro's eye for detail that is crucial for her art for a number of reasons. On one hand, by conducting careful and laborious research, she provides her works with further credibility. On the other hand, it might be seen as an in-depth effort to celebrate the heroic deeds of the past, to preserve the memory of those deeds and pass it on to future generations. In this regard, each scrutinous detail turns into a 'memory cell' serving for a common end very much aligned with the ideas of Russian Cosmism focused on progress and dedication to the preservation of the past at the same time.
Works of Nastya Miro reinvent traditional approaches to perception of realistic painting. Speaking of invaluable legacy passed on to us by previous generations of Space conquerors, she turns this conversation into a meditation-like process that opens our minds for comprehending other related topics. By flashing out detailed areas of our past, she provides us with a reliable tool to look into the future.
More about Anastasiya Miro
A graduate of Moscow Academy of Watercolor and Fine Art, School of Variety, Film and Television Studio, All-Russian State University of Cinematography, a participant in many joint exhibitions in Shanghai, Beijing, Tokyo, Berlin, Frankfurt, Vienna, Paris, Kiev and Moscow. Miro had exhibitions in the galleries: Black Dog, Nikolskaya Gallery and XIV Gallery Moscow. Participated in the Biennale of Young Art in Moscow, 2018. For the past 5 years, her artworks were presented at the Art Fair Monaco, Scope Art Fair Miami, World Art Dubai and Scope NYC. She lives and works in Moscow.
Prasolov Denis
Born in 1973 in the Ukraine, artist lives and works in Saint Petersburg, Russia.
Denis Prasolov studied sculpture at the National Academy in...
Born in 1973 in the Ukraine, artist lives and works in Saint Petersburg, Russia.
First Crew
42 rockets with dogs were launched in the Soviet Union in 1950s and 1960s.
Most of these animals didn't survive aboard or died after a parachute failure.
Some died during the flight, as it was intended because the technology to
return from orbit had not been developed yet.
Some returned alive, were successfully recovered from a spaceflight and
even gave birth to descendants. And only a few were in the center first of the
Soviet and then of the world's media creating one of the most touching and
charming stories of our time.
Such domestic with their defenselessness dogs in spacesuits confronted the
abyss of space. They didn't match their size with the scale of the universe.
Animals helped to humanize the ruthless scientific space research turning it
into a fairy tale in world's opinion.
The project is dedicated to animals which are unknown to pop culture. Most of
them died but some survived. There are some which even were born in
cosmos, for example, quail -bird.
This is the monument to the first crews that have made it possible for a man
to fly into space.