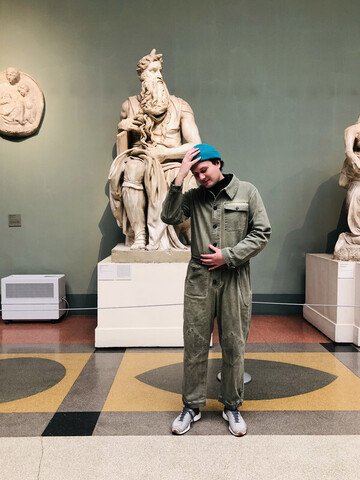 Born in 1987.
Yrii is a graphic artist and painter with an extraordinary background. His first encounter with art happened at the age of 20, when, after graduating from Moscow Film School as a screenwriter and a director, he returned to painting and drawing.
Yrii's artworks is a methodological examination of the nature of painting. He continues the line of abstract artists of America and German neo-expressionists of 1960-70 (especially De Kooning, Baselitz and Kiefer). Through them, Samoilov looks into the question of the method, which for him is the problem of the relationship between the figurative and abstraction. The artist approaches this border with automatic writing and palimpsest of textures.
At the creation of abstraction, there is a very big risk of going into the visual precisely by accident, unintentionally. Automatic writing removes the problem by making the image identical in meaning and importance of abstraction. The line is erased, and the uniquely figurative can use the plastic language in which it is not recognized immediately.
The same with the palimpsest: Yrii applies and erases the layers of paint, covers one another, scrapes the drawing with a sharp turn of the brush and uses a spray bottle along with acrylic and pastel from the tube and pastel. The texture of these works gravitates to sculptural plastic, and therefore to the pathos of the material. The material and its modeling becomes no less interesting and important than the image itself.
Due to all the above, artworks are created, where a viewer can find a collision of different visual problems, each is attractive in its own way: from the boundaries of figurative painting, automatic and thoughtful, to pumping up the texture, as a way to overcome the painting itself.
SELECTED EXIBITIONS:
2021 — Program Art Moscow within the framework of the 46th Russian Antique Salon, a-s-t-r-a gallery. Gostiny Dvor, Moscow
2020 — Participation in the International project of contemporary art THE WALL. Kamensk-Uralsky Art Museum, Kamensk-Uralsky
2020 — Participation in the group exhibition "I have lost track of the world". Curated by Irina Shulzhenko. Space "Richter", Moscow
2019

—

Participation in the group exhibition "One, Two, Three" curated by a-s-t-r-a gallery. CUBE MOSCOW, Moscow

2019 —

Participation in the international project "Out of the Black Square". Trekhgornaya Manufactory, Moscow
2019

—

Personal exhibition "Dead bodybuilder". Space "Richter", Moscow

2018 —

Two guys / One Exhibition (with American photographer John Hunter Tenney, Free Workshop)

2018 —

Performance "Seven Gentlemen in Moscow". Gallery "Osnova", Moscow

2018 —

Performance "Round 9". "October", Moscow

2017 —

Performance "Sixth Symphony". Pluto, Moscow

2017 —

"Garden" (Experimental Art Studio Meditating Dog)
SELECTED PUBLICATIONS: