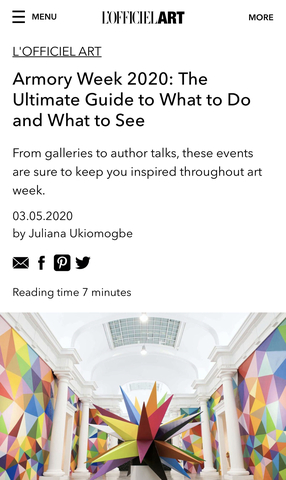 Armory Week 2020: The Ultimate Guide to What to Do and What to See, 09.02.2021
From galleries to author talks, these events are sure to keep you inspired throughout art week.
When: March 4-9
Where: An entire two floors of 625 Madison Avenue, between 58th and 59th Streets
What: Spring/Break is an internationally recognized exhibition platform using underused, atypical, and historic New York City exhibition spaces to activate and challenge the traditional cultural landscape of the art market. This year's show is titled In Excess, so naturally, the works are headed to Madison Avenue, above a block that includes several renowned luxury stores. Contemplating "more is more" amidst debates on climate change and capitalism, this event will definitely make you think.
Some curators include:
532 Gallery | 550 Gallery | Abigail Ogilvy Gallery | Alessandra De Benedetti | Ali Seradge | Ambre Kelly + Andrew Gori | Andrew Cole + Grace Lerner | Andrew Sendor | Anna Cone | Anna Kustera | Anna Zorina Gallery | Anthony Haden-Guest + Jicky Schnee + Nin Brudermann | a-s-t-r-a
Перейти в источник: https://www.lofficielusa.com/art/armory-week-2020-new-york-events